Swag should be fun! With Bonusly and AXOMO, it can be.
Bonusly customers love our fun and easy to use employee recognition and rewards platform. Now, Bonusly is joining forces with AXOMO to make it easy for Bonusly customers to offer swag items in the Bonusly Reward Catalog. Getting swag in the hands of your employees just went from a clunky hassle to a well-oiled machine. With Bonusly's fun-to-use interface and AXOMO's premiere swag management solution combined, your employees can redeem their Bonusly points for branded items they'll be excited about. Here's how:
🔁 Swag, rinse, repeat: When you connect your company's AXOMO store to the Bonusly Reward Catalog, your employees can redeem their Bonusly points for swag they'll love. AXOMO manages order fulfillment, letting you get back to what you do best!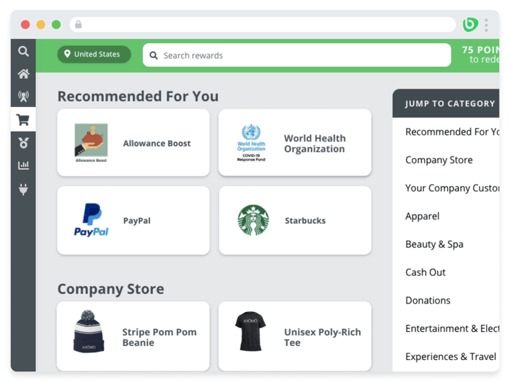 🎁 Swag smarter, not harder: Let them choose it so they'll use it! With AXOMO's extensive swag options, you can offer an array of stylish, high-quality swag right in your Bonusly Reward Catalog.
🧹 Clear that clutter: AXOMO's on-demand production makes it easy to retire unpopular items and introduce new ones, and for additional flexibility, you can adjust prices to meet employee demand. In addition to handling on-demand production and domestic and international shipping, AXOMO can store pre-made inventory for you so it doesn't take up valuable space in your office.
Stress-free swag is calling and you must go!
Already a Bonusly user and interested in integrating with AXOMO? Start here.